We may earn compensation from the products mentioned in this post. Please see our Affiliate Disclaimer.
Transform Into Royalty With A Bowsette Costume
Who knew a black corset and spiked chokers could be fit for a princess? Without a doubt, one of the hottest trends in cosplay right now is Bowsette, a hybrid of Nintendo's Peach and Bowser. She's got fangs, light skin, blonde hair, horns and a spiky collar with spiked armbands. She's not easy to please and loves to play hard to get. Her fan base is growing so big that it's bursting at the seams. Everyone wants a piece of Bowsette these days, except for Nintendo, who in the past has refused to acknowledge her presence publicly. She takes all of this in stride, luring new playmates with her devilishly sexy grin and buxom bosom. It's only a matter of time before she seduces you with her charismatic influence; enticing you with her tight, revealing black leather top, sensual grin, and irresistible black boots.
So who do we have to thank for kicking off the Bowsette craze? Well, on September 19, 2018, Twitter user @ayyk92 tweeted a comic showing Bowser getting a hold of Toadette's Super Crown, enabling him to transform into a female human version of himself. And thus, Bowsette was born.
The Super Crown's some spicy new Mario lore pic.twitter.com/7DQe6UXvLQ

— haniwa (@ayyk92) September 19, 2018
Since then, fans and admirers all over the world have been sharing their depictions of Bowsette in fan art and cosplay, and even a custom amiibo. Most have Bowsette as a blonde with horns like Bowser, wearing black apparel with Peach's crown, earrings, and blue amulet. Of course, Bowsette also has the spiked turtle shell back and spiked cuff choker and bracelets (just like Bowser). And the best part is that various depictions of Bowsette have taken all shapes and forms, ranging from innocent art to sexy cosplay. Fans have truly put their own spin and touches on Bowsette, making her the hottest mashup in cosplay.
So if you're thinking about dressing up and need a Bowsette costume, you have a ton of options. Here's what you'll need to make your own Bowsette costume:
Below, we've scoured sites to put together a thorough list of options to help turn you into the best Bowsette yet! 
Create your own Bowsette costume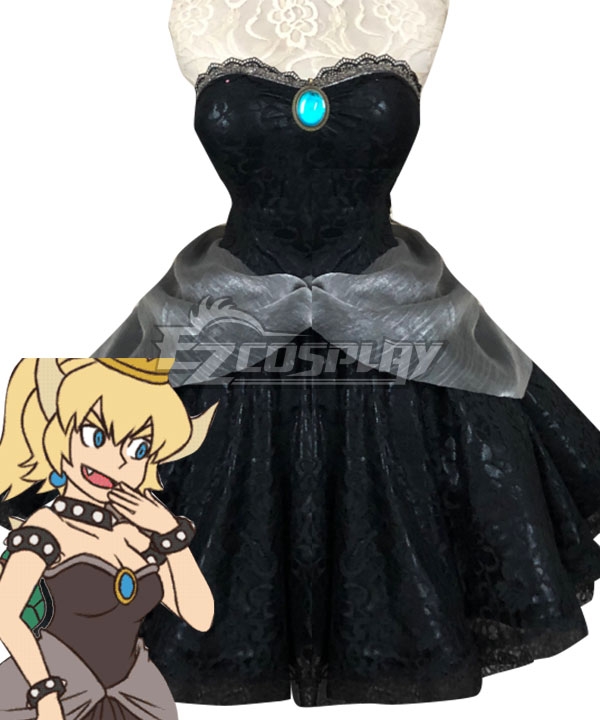 Elements of a Bowsette costume can really be divided into two categories: necessities and extras. And that's exactly how we've split up our post, so you know precisely what you'll need for your Bowsette costume, and what is considered as an extra.
Necessities: without these pieces, you can't transform into Bowsette
Black Apparel
The first mandatory piece to a Bowsette costume is the black apparel she wears. This is what makes Bowsette sexy! Depending on the type of Bowsette look you are going for, you have a few options in terms of what you can wear. And lucky for you, we've divided some suggestions for you below into three variations of how "sexy" the outfit is.
Spiked Choker
The spiked choker is without a doubt a part of the signature look of Bowsette. This is another element taken straight from Bowser. And it's definitely part of what makes Bowsette look like a badass. Here are our favorite spiked chokers:
Spiked Cuff Bracelets
Going hand in hand with the spiked choker are spiked cuff bracelets, which again are another signature piece of Bowsette. Typically, Bowser wears two sets of spiked cuffs on his arms (one on his wrists and one on his biceps). With Bowsette, we've frequently seen her wear only one set on her wrists. But, we've also seen a more sexy spin on the Bowsette costume by adding spiked cuffs to her thighs. Depending on the size of your legs, you might need to get a spiked choker since the length will better fit (we recommend this for most adults). Below you can find our top recommendations for spiked cuff bracelets:
Super Crown
The Super Crown is perhaps one of the most essential parts of the Bowsette costume because it's exactly what enabled Bowser to transform into the female human version of himself. Without the crown, there is no Bowsette! There's a ton of options for crowns, and we've listed our favorite below:
And if you're ok with using just a regular Princess Peach crown, which is a bit different from the Super Crown, check out this Princess Peach Crown Costume Accessory.
Blue Amulet
Another way that Bowsette stands out is with her blue amulet. This is a large blue jewel that is shaped like an oval and is one of the main pieces that distinguishes the Princess Peach half of Bowsette. The amulet is typically placed on the center of the chest (right where the cleavage line is), or as a necklace. The best option for the amulet is typically part of a set with the crown. While we have found better quality crowns (see below), this amulet is spot-on and easy to apply.
Shoes
Part of Bowsette's costume is, of course, her shoes! We recommend finding a pair of comfortable heels or boots to go along with her look. And the good news for you is that we've done the hard work by putting together the following list of great shoe options for you:
Horns
The horns are an essential part of Bowsette and have been included in almost all depictions of her that we've seen. Why? Because Bowser has horns and this is one of the easiest ways to identify that the character is Bowsette and not just some random blonde girl who has an obsession with spikes. Here are our top suggestions of where to find the best Bowsette horns for your costume:
Bowser Shell
The last critical element to Bowsette is her shell, which of course comes from Bowser. This shell is perched on her back, and is primarily green, with a white outline and must include the famous white spikes. This is probably the most difficult part of the costume because there are not many pre-made Bowser Shells out there for sale. Amazon has a Bowser costume kit that you could purchase that comes with the shell, and the price is a bit more reasonable. Or if you're really ambitious, you could always attempt to DIY and create your own Bowser Shell.
Extras: add these to enhance your Bowsette costume
Wig
Bowsette is a blonde, which she obviously gets from Princess Peach. So depending on what your natural hair looks like, you may need to get a blonde wig. There are several great options that we've found for you, that we've linked below.
In some cases, we've even seen Bowsette with red hair, and she looks pretty awesome with that fiery shade of red. Here are some suggestions for red wigs:
Tail
In some depictions of Bowsette, you'll see her with a large tail, which is the main physical feature of Bowser as well. The tail is typically a yellowish color and also features white spikes. Unfortunately, we haven't found a lot of really great pre-made options for authentic-looking dinosaur tails. Our best suggestion would be to purchase a Full Bowsette costume set like the one at the bottom of the article, or to make one yourself! 
Earrings
While earrings are not a necessity to a Bowsette costume, they do certainly make it more obvious that Princess Peach is involved in the mashup. Peach's signature earrings are large, circular, and aqua blue. They sit just below her earlobes and are the same color as her blue amulet. If you do have your ears pierced, we highly recommend picking up a pair of the earrings we suggest below:
Fangs
Some depictions of Bowsette have her with fangs like a vampire. This is a really simple and cheap thing to add to your costume if you don't mind having something attached to your teeth for the duration you are wearing your costume for. Here are our suggestions for some good vampire fangs:
Tights or stockings
If you choose to wear a sexy black outfit as a part of your Bowsette costume, you may find the need also to wear tights or stockings to dress up your legs a bit. Here are some of our personal favorites that you might also like:
Accessory Sets
If you're looking to save money and buy some of the accessories we named above together for your Bowsette costume, check out these bundled sets we've found below:
Full Cosplay Set
Finally, we've found a couple of awesome fully put-together Bowsette costumes sets. This means you have to do very little to no work other than just buying the set.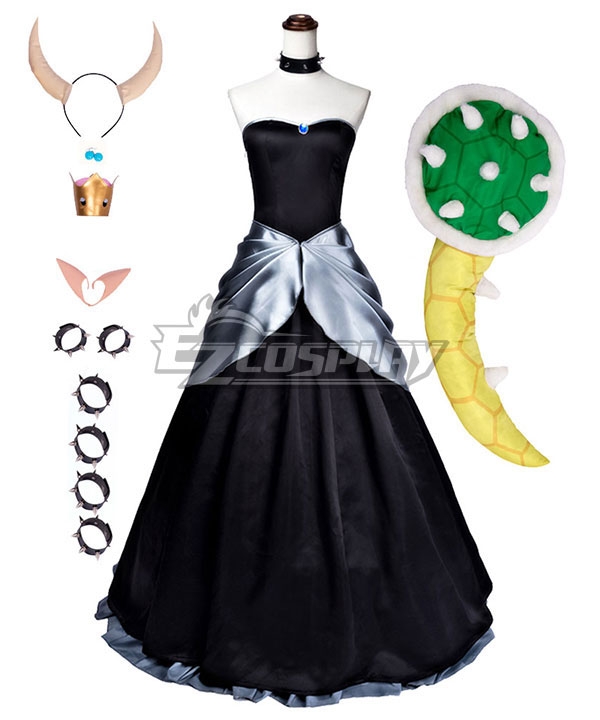 You are now on your way to creating a Bowsette costume of your own
So there you have it — you now have everything you could ever need to make your own Bowsette costume. With the help from the recommendations above, you'll be on your way to looking like the hottest princess in gaming in no time!
If you're interested in other cosplay ideas, check out our articles on how to make your own costume for Booette, Chompette, Princess Peach, Harley Quinn, and Wonder Woman.